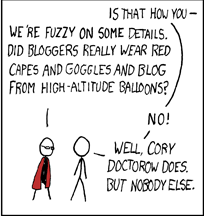 Cory Doctorow's Little Brother is a novel for young adults, so I said to myself: "Myself, you're an adult, you're young, you should read this". I was right.
Little Brother is awesome. It's 1984 combined with Steal This Book combined with Hackers - upgraded and updated for today. It's about America's war on terror, and how that war is terrorizing American citizens. It's about freedom, and the pursuit of happiness, love, and friendship. It's about technology, and especially about how technology can be turned against us. It's a book that every freedom-loving American (and every other nationality too) teen (and older) should read.
Read it, online or offline. Then buy copies for all your nieces and nephews, for the local school library, for the local municipal library, and post the link to the book download on your blog. I'm going to.
"Hack The Planet!"