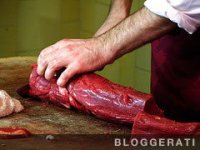 What a blast. An unknown (possibly unknowable) number of assorted bloggers, journos, techies and new media types showed up. No higher networking purpose, just Vincent Maher and Matt Buckland looking for an excuse to throw a party. And what a party it was.
Chairs were in short supply, possibly a deliberate strategy to facilitate mingling. Their cunning plan succeeded! The mingling was fierce, and the networking was good. Especially after the hookah was put into action. No, a hookAH, a hubbly-bubbly.
Had some very interesting conversations. Some guy called Angus turned out to be really knowledgeable about mobile marketing. I spotted him the next day in ITWeb Brainstorm. Turns out he was actually Angus Robinson, CEO of Brandsh Media. I'd assumed he was a techie. Another interesting guy was Godfrey. He turned out to be Godfrey Parkin, CEO of Britefire.
I feel kinda betrayed. If I had known they were CEOs, I would've been a lot more scared to engage them in conversation. I was cheated out of having stage fright! Darn that deceptively simple name sticker system! I have a right to feel insignificant!
I used that time of ignorant confidence to pick their brains about what thought paradigms they subscribe to. Kevin Kelly's New Rules for the New Economy, and The Cluetrain Manifesto both featured big. Interestingly, the full text of both books are available online. Viva Le Libre L'Information!
Then there was Telana. She turned out to be just what she appeared to be. One woman. A daring quest for offices.
That recent advert with the guy pointedly not donating a handful of loose change but instead trading it up and up for a wheelchair for the cripple saxophone player? That's a ripoff of *her* idea.
I also missed meeting Owen Swart. Again. First we didn't meet at the Star Trek minicon. Then we didn't meet at my birthday sushi dinner. Then we didn't meet at any of the SFSA meetings. Now we didn't meet at Bloggerati. Very weird.
Regardless, I'm definitely there the next time Vincent and Matt feel like having a party.